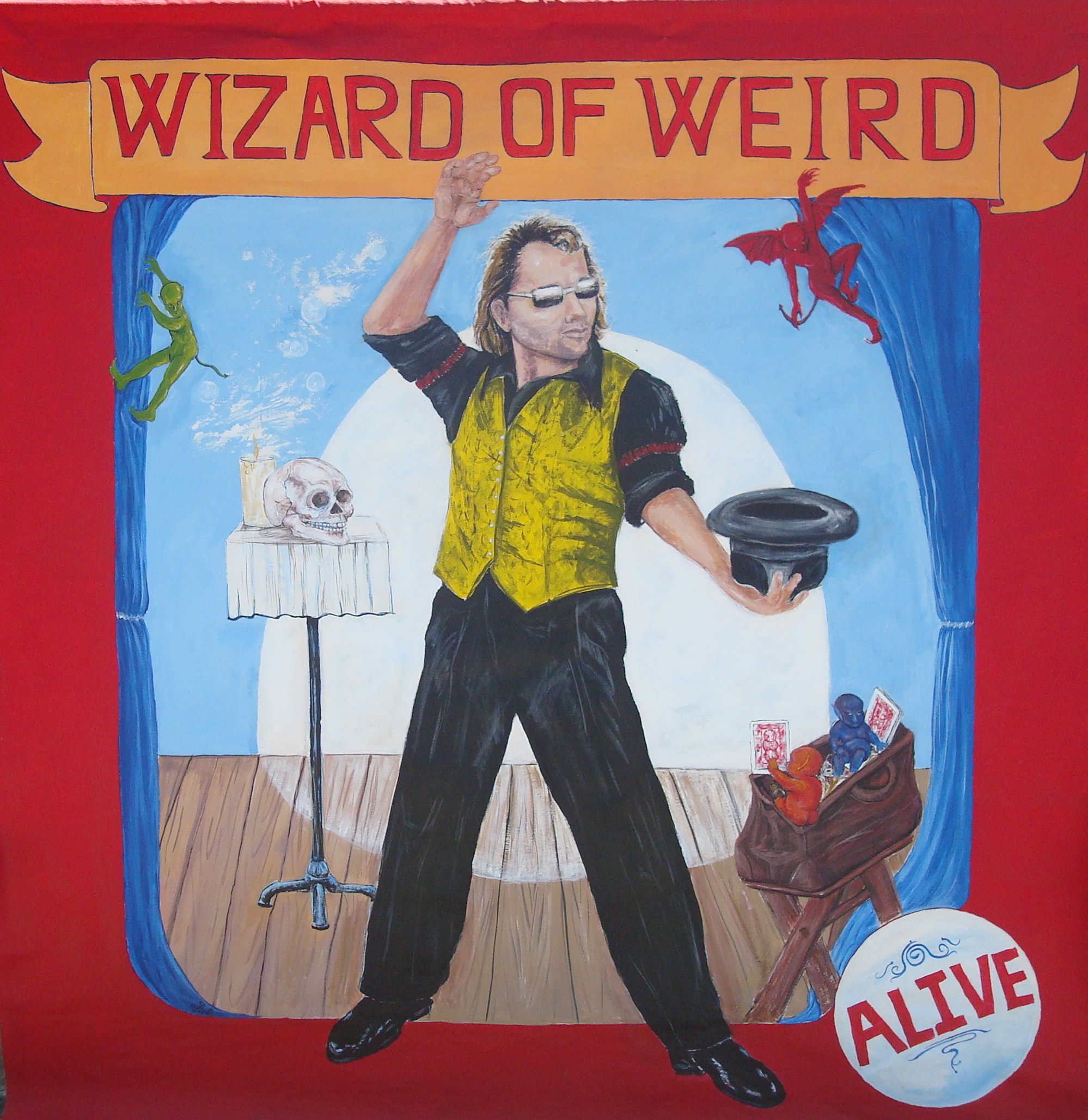 This Sideshow Banner is the backdrop of a magic show I produce called The Phantom Magicians Midnight Magic Revival Show. It is an homage to the American Frightshows that were presented live on stage and in movie theaters from the 1930's to the late 1960's. These magic shows were often presented at midnight after a horror movie. Below I have provided you with a short list of some of the ways that you can have comedy and magic at your next event.

Comedy Magician - Comedy Magic is a great crowd pleaser for both young and old. The show is fun for the whole family and is age appropriate.

Strolling Magician- The Magician performs classics of Magic, sleight of hand, and other miracles. Guests will be amazed at how close-up the Magic is happening to them. A strolling Magician is a great addition to any party setting.

Magic Bartending- Have a Magician mix drinks and perform Magic at your next party. The more your guest drink the better the Magic becomes.

Bizarre Magic- If you like the unusual and off beat the Wizard of Weird is what your looking for. You can order a Bizarre Magician in either close-up strolling or a stage presentation.

Comedy/Magic Roast-A roast is a great way to honor someone whether its for a birthday surprise, retirement party or any occasion where one person is being celebrated. All you do is provide us with information about the roastee and we will create comedy material based on that information which will then be incorporated into a 30 minute magic/comedy roast. This is great for 21st, 30th, 40th, 50th and all milestone birthdays, retirements, bachelor/bachelorette parties and any other occasion where one person is being celebrated.

The Phantom Magicians -The Phantom Magicians are a West Coast Southern California original brand of comedy and magic based on the midnite fright shows that performed in movie theaters during the golden age of cinema. The Phantom Magicians are available for theatrical presentations,corporate events and private parties.
Picnic Game Master/Team Building
A Game Master is a great way to bring both children and adults together as a group. This is not just games with a referee it's an event with music, props and prizes. Whether you are participating or just watching, classic and new picnic games are the way to go. All games are age appropriate to make them fair and fun for all that participate. We also have parent/child games and group games that are open to all ages. Prizes are provided (at extra cost) by the game master, small prizes for those who participate and larger prizes for the first place winners. Below is a short list some of the games that we offer.
Frisbee toss
Limbo
Bucket Brigade
Hula Hoop Contest
Water Balloon Toss
Mummy Wrap
Simon Says
Scavenger Hunt
Relay Races
Trivia Games and more...

Airbrush Tattoos, Face Painting and Henna.
Airbrush Tattoos, Face Painting and Henna is a popular way of celebrating any special occasion such as corporate events, private parties, premiers, festivals, holidays and other functions.
Below are the most popular face painting and body art techniques on the market today.



· Face Painting-Face painting is an artistic application of cosmetic paints to a persons face.


· Airbrush Tattoos-Airbrush tattoos are easy to apply and dry quickly. They are incredibly colorful and detailed, totally safe, and easy to remove. You can have the same designs used by tattoo artists brought to your event. Select your realistic airbrush tattoo from our display of designs. Theme options include beautiful, cute, wild, crazy, exotic, children, biker, Celtic, Asian, tribal symbols, adult, teen, personalized (your name or logo) designs. Our fabulous array of fun and unique tattoo body art choices will appeal to all ages. Vibrant colors of body paint, glitters, colored powder shimmers may be added to enhance and customize each design. Airbrush tattoos dry immediately, and can last for days and sometimes weeks! Resistant to water, body art may be easily removed with alcohol or baby oil. Best of all, applications don't hurt.


· Henna -Using all natural ingredients our henna artist creates both traditional and modern designs that can last days. The henna artist can also use traditional paint that can wash off the same day.


· Tatt-Vertising - Is a creative and effective way to promote and advertise your business or product at special events and trade-shows. We hand cut a custom stencil of your companies brand or logo then it's applied as an airbrush tattoo onto potential customers literally turning anyone that gets airbrushed into a walking billboard. Few marketing tools can draw a crowd or leave an impact as effectively as airbrush tattoos. This concept has been successful in all types of large crowd venues including, trade shows, sporting events, grand openings, movie premiers and concerts.
Clients include... LA Lakers, Bob's Big Boy, Mooneyes, X-Games, State farm Insurance, Golds Gym and more.



* Artists use only professional grade hypoallergenic water based paints and make-up.
Psychic Entertainment
Palm Reading, Tarot Cards, Crystal Divination, and other styles of Fortune telling are great ways to entertain your family, friends and co-workers. The psychic performers will provide your guests with accurate and positive readings and create an air of mysticism with wonderful props and costumes.

Tarot – The Tarot Cards are stories conveyed in pictures. They are used as a means of predicting events or receiving guidance in both our inner(spiritual) and outer (material) world. The cards offer psychological insight, wise council and accurate divination.
Palmistry- Palm reading is the study of the lines, mounts, and shapes of the hands. The palm reader can explain the meaning of the lines in the hand and the effects each line has on the many phases of ones life.
Handwriting Analysis-Handwriting is a remarkable reflection of a person's true but often "hidden" character, revealing things about personality, aptitudes, emotions, and state of mind beyond what can be observed. Graphology is an entertaining way of finding out more about yourself and others.

Balloon Artist
Have a strolling or stationary Balloon artist mix with and greet your guests creating instant art at their request.
Traditional Balloon Artist- Using a variety techniques the balloon artist creates temporary masterpieces ranging from animals, characters, wearable hats and all kinds of accessories. Fun for the whole family.
Burlesque Balloon Artist- Is great for an all adult party some ideas include bachelorette parties, adult birthdays, roast, college events and any unusual venue creating comedic adult themed balloons. For more information check out www.burlesqueballoons.com
Interactive Party Station
An interactive party station is a great addition to any event. This hands on creative space can be designed to fit the theme of your event and is a great take away for your guests. All projects are age appropriate and supervised by an experienced crafter.
Below are some of the more popular DIY projects.
Duct Tape projects

Improvising with Clay
Fuzzy monsters

Beaded key chains
Jewelry making
Foam Crafts
Scrap booking
Painting
Friendship bracelets
For samples and more information contact at link below.